Liveaboard catamaran cruiser (Tampa FL)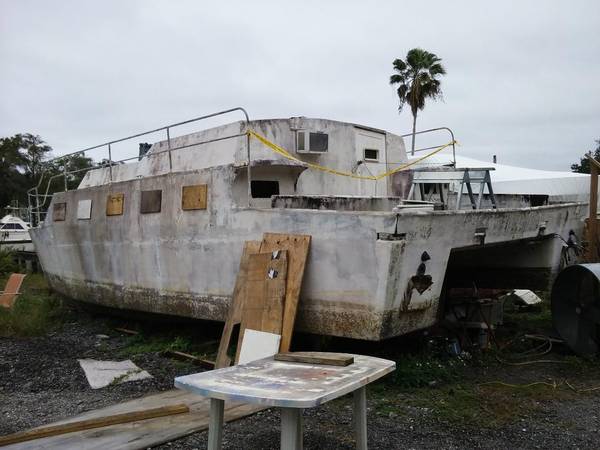 Liveaboard catamaran cruiser
being restored from the ground up.
Sudden changes in medical conditions have forced me to
give up my dream of sailing off into the sunset on her before she is finished.
and is essentially gutted and is a fresh canvas for however you want to build her.
I have cruised on her, she is a nice stable platform unlike a mono-hulls.
Would make a good stable work platform or barge,
2' draft.
Pontoons could be filled with foam and it could carry a heavy load.
Pontoons could be made into cabins for crew or equipment storage.
The options are wide open.
No engines are included.
Two 50 outboards moved her fine before but they are not available.
Vessel is too wide to be moved by road so it will have to leave by water but she does float just fine.
Project is at a private facility and can ONLY be viewed by APPOINTMENT.
So, pleased make plans in advance.
This project is not for the weak at heart,
but I have owned her for much of my life and raised my family on her,
and she has been our home for a long time.
She is well worth the effort and when completed
could take you anywhere you want to go or perform any job you need her for.