Gone - 42 Irwin Center Cockpit (Labelle FL)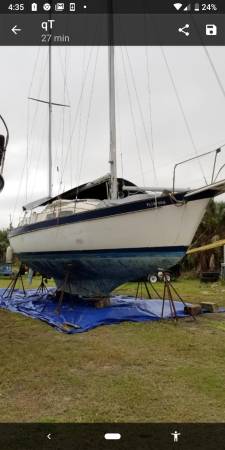 42 Irwin Center Cockpit
- Gone -
FULL DISCLOSURE: THIS IS A PROJECT BOAT!!!
We took her off the hands of a salty sailor who decided to trade the seas for the mountains, hoping we could transform her into our retirement live-aboard dream. Sadly, our current work demands haven't allowed us to give her the time and attention she needs and not much has been accomplished in two years, other than handing out money to a DIY work yard every month for a boat we only spend a handful of days on every year.
No, there is no engine.
It was completely seized and we began work to dismantle and remove it.
No, there is no nav equipment.
Yes, she does have a couple of sails. The main and the mizzen.
Yes, she does sail and stays afloat with no water intrusion.
We sailed her from St. Pete to the Okeechobee Waterway, then hip-towed her to Glades Boat Storage (since October 2017, so it HAS been some time).
Our best guess on rigging age is 12-15 years.
We wanted to go synthetic, so it wasn't a huge concern for us.
V-berth and aft cabins, 2 heads, one with tub/shower combo.
Huge salon. Large nav station/work bench.
She would make a beautiful boat for the person who has the time to do the refit.
Our rent in the work yard is around $600/month, give or take $10, depending on the number of days.
If you wanted to move her to the storage lot while you make arrangements to bring her closer, the rent was about half of that.
Again, we are not selling this boat, she is FREE if you are willing to come get her or take over the yard rent.
The time it would take for us to sell her would just result in more rent, which would eat up any profit, so we'd rather just give her to someone who can bring her back to life.