Gone - 36' Rhodes evergreen (Des Moines WA)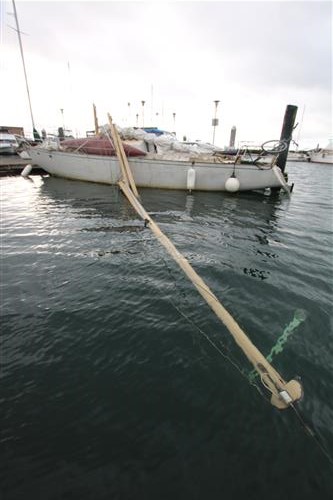 36' Rhodes evergreen
My mast was destroyed in an unfortunate accident at the Des Moines pier.
I can't repair it and have no way to hold onto the boat.
I'm going to try to get a tow to an Anchorage, or you can grab it at the Des Moines marina.
It's a 36' wooden racing sloop from 1946.
The hull is still in great condition.
Someone encased the hull in fiberglass in the 80's and rose the siding 18'' to make it a better livaboard.
There is roughly $5,000 in gear alone.
Boat is from 1946 and in great condition other than the mast.
No damage to the deck was taken when it fell. And all the rigging was saved.
Can plane a new mast for less than $1,500 if you did it yourself.
The boat has
Folding propeller
1 main 2 head 2 Spinnaker sails
48v DC Honda generator
48v battery Bank
48v motor and motor controller
12v house bank
28 lb fluke anchor
80' of heavy chain and rope
Propane stove
Bilge pump
Great indoor lighting
Two sinks
Mini fridge
Microwave
Coffee maker
Head
Lots of random sailing gear
Just has a broken mast and a little damage to the fiberglass shell.