Gone - Free 1953 Folkboat (Alameda CA)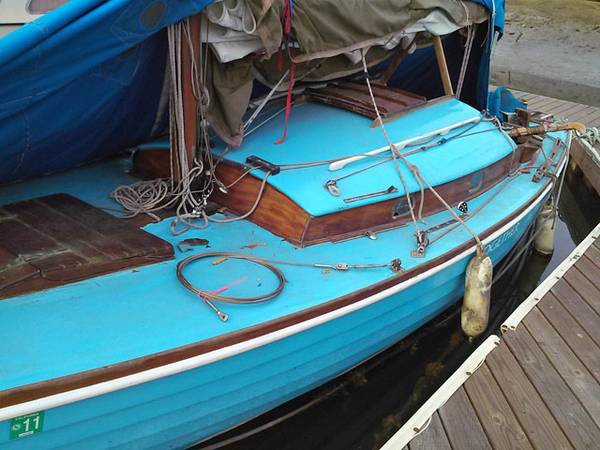 "Together"
a great little, very seaworthy, sailboat with quite a bit of history.
It was sailed from Denmark in the 1950s by the 2nd President of the Bay Area Folkboat Association.
It is still owned by the 2nd owners who bought it in the 1970s.
She's now available in exchange for a good bottle of rum (my broker's fee).
The good:
* Solid clean hull (it may have been encased in epoxy at some point)
* Nice new sails -- still "crispy"
* Nice new running rigging
* Lots of upgraded Harkin equipment
* Full sunbrella cover
* Nice stainless motor bracket/slide to easily remove the motor
* Standing rigging looks good
* Boom brake, wood whisker pole, etc.
The bad:
* The mast is broken... replacement masts _may_ be available via the Spaulding Boat Center or Svendens.
* Some rotting in the deck.
I'm not knowledgeable about wooden boats, but the repair work doesn't look that bad.