'70 Custom Colvin 37' Ferro Bid$10.91 (Yarmouth ME)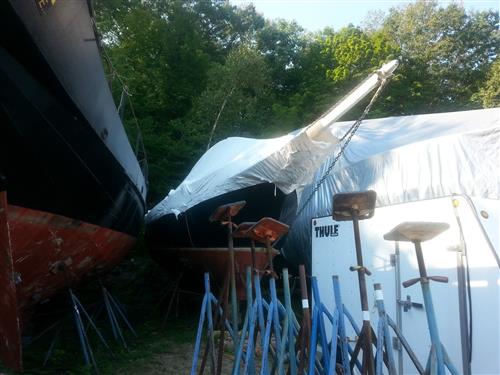 1970 Custom Colvin Design
37' Ferro Cement Sailboat
Beam: 11' Draft: 5'6"
Inboard Sabb 18hp Diesel
the boat was last used in 2014.
The boat sleeps 4 people.
The upholstery is in poor condition.
Soft spot in aft deck.
repair is as strong as rest of boat.
Wood deck has minor leaks.
the following items free of charge, some items may not function:
Battery Charger, Compass, Depth Finder, Ice Box, Toilet,
Galley Sink, 2 Anchors, 2 Bilge Pumps, Chain, Cushions,
Dock Lines, Fenders, Fire Extinguisher, Generator, Horn, Life Jackets,
Rope, Swim Ladder, Windlass,
Jib, Main Sail, Foresail, Fore Staysail, Spare Jib, Top Sail,
2 Backstays, Barometer, Boat Hook, 2 Booms, Bowsprit, Cleats, Deck Brush,
Forestay, Halyards, Horn, Jib Stay, Knotmeter, Main Mast, Fore Mast,
Sail Covers, Roller Furling, Rudder, Reefing Lines,
Sail Bags, Sail Cover, Stays, Wheel Tiller, Winch Handles.