66 Columbia Sabre 32 (Port Jeff Harbor CT)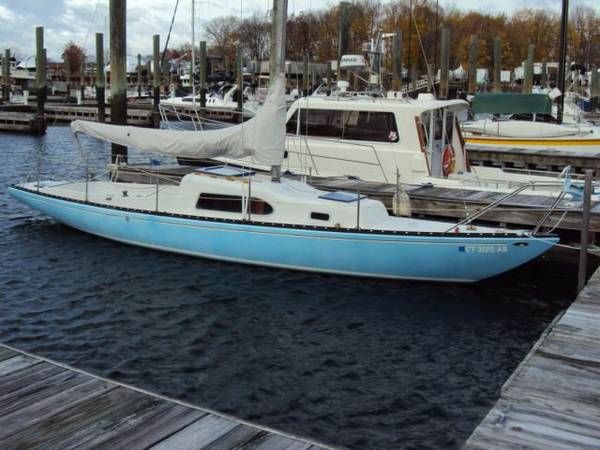 1966 Columbia Sabre 32.5
Sailboat with all sails
Boat is in good working condition, moored in Port Jeff Harbor
Needs to be hauled for the winter.
uyer needs to make arrangements to haul and store.
The boat, registered until 2020, goes to the first person willing to pay $1 and take the boat
Nearly free ($1 to make this a proper sale to keep the DMV happy) is a 1966 Columbia Sabre 32.5' sailboat currently in the water in Port Jeff Harbor.
My goal is pass this boat on (and the time it takes to properly care for such a craft) to someone who will make better use of it than I have. Boat is in the water, on a mooring, and needs to be hauled for the winter.
When on the boat, I spent time sailing, not taking pictures. The attached photos are from last year when she was docked in Norwalk, CT. The boat is a season older, carries a NY registration number, and has Port Jeff marine growth on her belly.

The boat is in fine working shape and has seen significant work in her half-century life. I relocated to Long Island last fall and bought a boat mid-winter thinking that doing so would be a great way to enjoy the LI sound and relax. Instead sailing on nights and weekends, I ended up enjoying working more hours than planned. As my schedule will not be any easier next summer, it's time to find its next home.
The boat has a full set of sails in very workable shape. Mainsail is relatively new and on a rolling-reefing boom. Gib is a standard (not roller furling) design, with easy access to the sail locker in the fore cabin.
In addition to the primary, a few different sized gibs are on board (including a storm and oversized), but haven't seen any use by me. There is a symmetric spinnaker and drogue, too, but the boat is not currently rigged with a spinnaker halliard. Spinnaker pole is there if you want to run the line!
Stowage lockers are full of inclement weather gear and safety gear, mostly in adult sizes. The boat is a bit of a wayback machine
/ time-capsule, with some of the cabin shelves still containing alka-seltzer and other first-aid bits from the 1970s-80s.
Interior has been redone in the last decade, with marine pleather cushions throughout. The included PFD/cockpit cushions are weathered, but serve their purpose.
According to the prior owner, the balsa-cored deck was pulled and replaced with closed-cell foam; I didn't find any soft-spots on the deck. Much of the deck trim has been replaced with metal footers, and there are lifelines around all but the very aft surface.
When the boat was pulled in 2015, a full gelling of the bottom was done and multiple coats of ablative paint were applied.
Despite being a 32' boat, she's quite narrow.
This boat really tops out at four adults sitting comfortably.
The 6HP Yamaha outboard (that sits inside a neat transom well) has been rough to start late in the season; I expect that it needs a carb overhaul. Assume that the motor will need work. The motor is around 6 years old, with parts readily available. Gas tank included.
The gelcoat needs to be cleaned up, and a general paint job is in order. Exposed teakwork could use a sanding and re-finishing.
A new deep-cycle battery will be needed, as the unit in there is flat and has been through one too many deep-discharges. I had planned on setting up solar charging, but never got around to it.
SERIOUS INQUIRIES ONLY, NO SAIL-KICKERS, PLEASE.
When responding, please make an effort to let me know that you are aware of what taking ownership of a boat entails. Due to the time-sensitive nature of getting the boat out for the winter, the boat is "first come, first served".