30' Benford Pilothouse BID $1 (Sumner WA)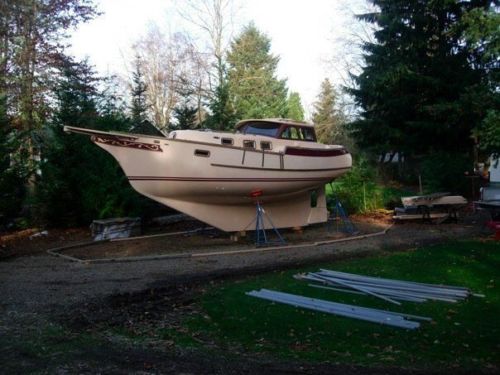 Benford 30 Project
The first photo was before we started working on it.
Listed as new since its never been titled.
Professionally built fiberglass hull.
New refrigerator, new alcohol stove and oven, 2 steering stations,
Interior needs finishing.
This was originally commissioned by a gentleman to be his retirement boat.
He had the hull professionally built in Vancouver and he started to finish it out.
Unfortunately, his health failed as he got to retirement age and the project sat. T
he cabin sides and roof are fiberglass covered plywood and the seal around the windows failed and water got inside.
The cabin sides (plywood) and part of the pilothouse roof (also plywood) need to be replaced.
Yanmar 3gm engine installed, transmission, shaft, bronze 3 bladed prop.
Some of the parts included are manual winch, some stranding rigging, s steering wheels, winches, compass with binnacle, anchor, diesel cabin heater, lots of hardware and parts.
Not sure what year this would be as it has never been titled.
Original blueprints included.
Includes 4 sailboat stands.
Lost my storage space. Must sell regardless of price.
The hull, engine, transmission, shaft, prop, stove, oven, refrigerator are new, never been in the water or used at all.
Must be moved immediately, 2 or 3 weeks after auction at the latest.
You'll need to hire a boat mover as it is not on a trailer.