21 Westerly Warwick $2500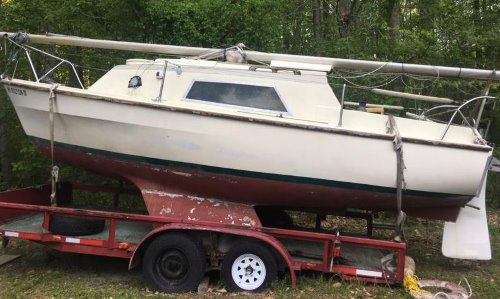 1971 Westerly Warwick 21
Twin Keel
Boat, Motor and trailer
A very sturdy well built English Westerly Warwick 21 Twin Keel Sailboat.
5'10'' headroom, 8 hp outboard motor and trailer included. Number 30 of 207.
Would be excellent for the bay and they are great in heavy weather. Draws 33"
More info at https://sailboatdata.com/sailboat/warwick-21-westerly
Boat ready for water. All sails are good. Has 2 jibs, 1 new.
Should bottom paint next season.
Outboard needs tune up.
Trailer is good and roadworthy, very heavy duty has electric brakes.
Has a new temporary smaller tire and also a new spare tire and the original tire.
Total weight of boat motor and trailer about 5500 lbs.
https://www.sailboatlistings.com/view/90860