1981 Hunter 25' bid $50 (Long Island NY)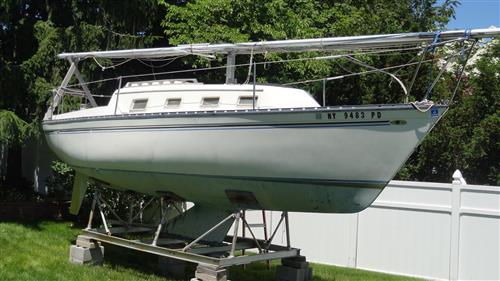 1981 Hunter 25' Fixed Keel Sailboat w/ Sails & Cradle
1981 Sloop, Cutter
Make: Hunter
Keel: Fixed
Length (feet): 25
Beam (feet): 7.8
Hunter 25' Sailboat that is in very good condition for it's years!..
Well maintained & clean in/out.
Main & Jib sails all in excellent condition in a bag in his house that are included.
The Cradle that the boat is sitting on is disassembleable & IS included with the boat.
As you can see from the pictures she's a beauty, the cabin is clean & clean smelling, no mustyness at all.
There are 2 couches in the cabin, a V-berth & porta-potty.
VHF radio.. Outboard bracket, Rudder handle, and some extras.
Hull looks great all around, decks are rock solid, looks like it's ready to sail