Small Fiberglass Sailing Tender (SunSet Lake NH)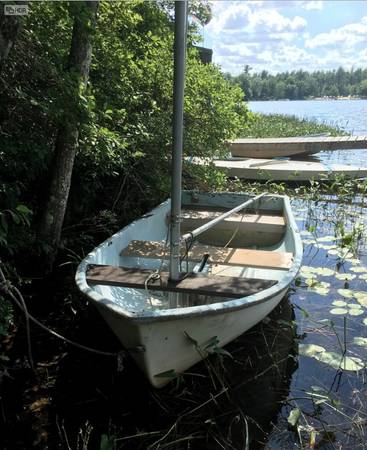 Small Fiberglass Sailing Tender
Fiberglass boat from the late 1950s, just under 11 feet long.
It has been used every summer since then.
It does not leak, but it shows the wear and tear of its years.
In the early 1990s I redid the fiberglass on the rear seat so that it is water-tight and would keep the boat afloat if it should tip over (it is very stable, so I've never tipped over in it).
The compartment in the bow does have a little leak that lets water in when it rains -- so when you bail the boat after a rain, some water then leaks in from the bow compartment that should be airtight.
This is a minor problem.
The mast and boom have been repaired, and the rings that support the rudder have been replaced many times, but the whole thing still works for sailing, if there is a lot of wind.
It does take a lot of wind to sail well. But it can also be used as a rowboat.
It comes with oarlocks, oars, a rudder, a centerboard, a sail, a mast and boom -- all old but functional.