Gone - Large boat lift, Needs new arms but otherwise works great. (Fort Lauderdale FL)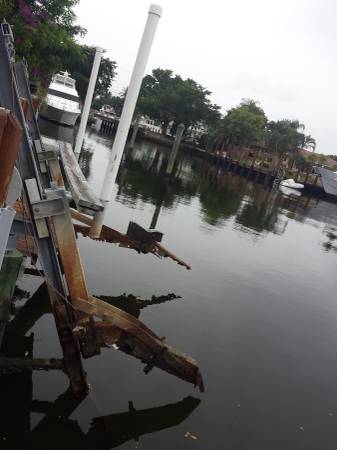 Large boat lift
This is going to be a big job to remove.
We will not allow the motor or electronics to leave until the metal is removed first.
Works great and everything is in great shape but the two arms are rusted out and need to be repaired or new ones ordered. I am sure a fabricator can make them fairly easily otherwise it is in great shape, cables, motors, wheels etc.. all work.
Need it out immediately and letting someone have it for free!
no tire kickers. bring trucks, tools and workers plus whatever else you need to get it out. located in east fort Lauderdale. also can scrap the galvanized and sell the motor and electronics I don't care what you do with it but it all needs to go. will not allow someone to take the electronics until the structure is removed. this is a large lift with dual motors and 12000 pound lifting capacity. It is driven in the ground (water) and has piling mounts where it meets the dock.