Gone - Free 1964 37 foot Egg Harbor convertible sedan (Myrtle Beach SC)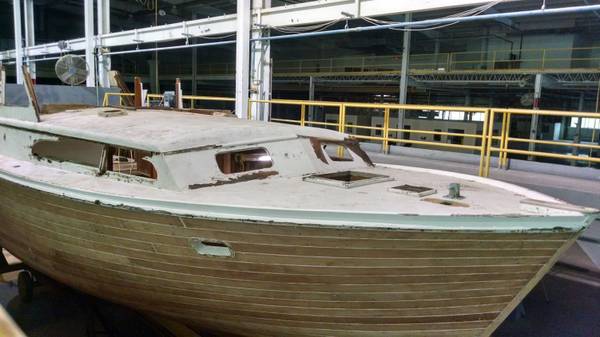 I have a beautiful old wooden boat, it's a 1964 37 foot Egg Harbor convertible sedan.
It has 1" thick mahogany planking, and 1" thick teak decks.
If anyone wants to restore it it is free to a good home, or it will be dismantled and the lumber will be given away or burned. I have lots of the hardware that has been removed from the boat.
It is already stripped of almost all wire, pipes, engines, etc. and is ready to begin structural repair.
If you're not an experienced woodworker, you probably shouldn't bother with this boat. The hull exterior is sanded down to bare wood. The house roof/flybridge can be removed for transport (as seen in photos).
Most of the ribs are either cracked at the turn of the bilge and/or rotten where they meet the keel. The boat could possibly be worked on where it sits for the right rent price. Otherwise you will probably need a specialized trailer and probably permits to move it (it is over 13' wide).
This boat will not float in its current condition. Send me a message to schedule a time to come look at the boat.