Free 17' Sailboat no trailer (Marine City MI)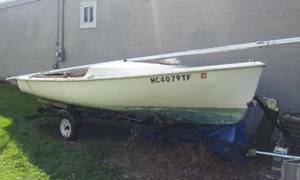 This is a Free 17' Sailboat
but if you don't have a trailer to get it, don't inquire.
let me know that you have a trailer and can come get it.
17' Pioneer fractional sloop made by Sailstar
Trailer is not included.
This is a copy of the very popular O'day Daysailor.
Has a 6.3' beam, and retractable centerboard which draws approx. 7" up, and 3' down - great for shallow waters.
Comes complete with mast, boom, rudder, and main sail.
The floor is soft toward the aft.
You'll either want to cut it out and replace it, or put down some plywood to get out there and sail.
The fiberglass is in good condition, and the boat is otherwise ready to sail.
The boat is complete, and free.