42 Trimiran (Palm Coast FL)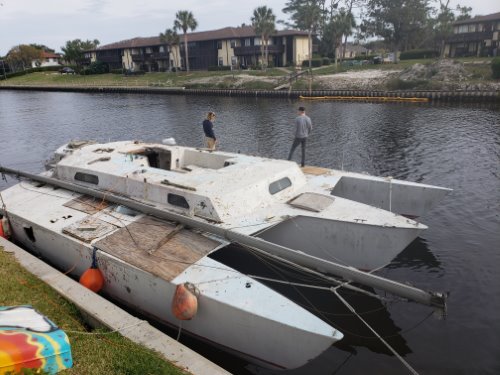 42 ft Tri Cat
SailBoat with title.
New Sail and lots of extra parts.
Mast is good condition and is dropped.
The boat is a shell and ready for some interior design.
3 cabins.
Boat is in the water.
Right now it is waterlogged due to the high tide.
Moving it will most likely require a generator and pumps.
However, you have to get the tide right and keep it floating.
The hull shell is salvageable, however all of the decking needs replacement,
hence the composite shell coating exterior as complete.
This boat was a racing boat, so it has room for 4,
with 1 state room and bunks in the bow.
Galley and head are mid ship.
The mast and rigging we have is in good condition.
Sails subject to inspection.
Come get it.