31 Piver Trimaran (Goleta CA)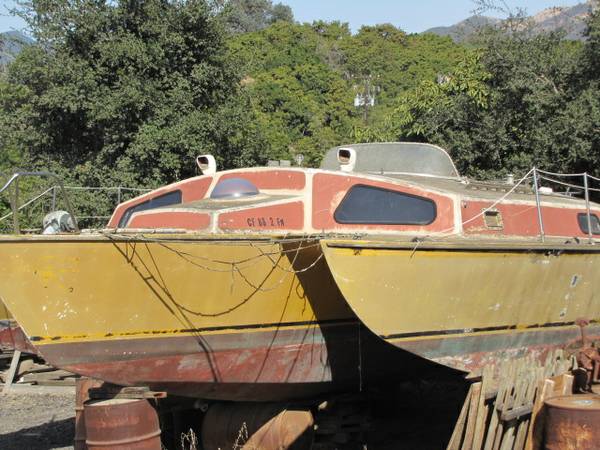 31 ' Piver Trimaran
I have a 31 foot Piver Trimaran Sailboat. It is on a ranch in Goleta
If a person wants to keep the boat on the ranch for a short period of time,
the charge would be $5.00 per day paid up front.
A deposit would be required if the boat is going to stay on the ranch for a longer period of time.
Title (a bill of sale) will be given when the boat is leaving the ranch.
I will not respond to e-mails so you must leave your phone number. What is your story: i.e., your plans for the boat, when it could be moved, can you afford to move it, etc.?
The boat should be able to go into the water without too much preparation.
There is a mast, boom, no sails, outboard motor well in cockpit (no inboard engine), windlass, lifelines, rough galley.
Be patient in my response time to you unless there is an urgent matter with you or the fact that you could move the boat immediately.
Serious inquiries only and no looky--loos.
I really do not have a lot of extra time to devote to this opportunity and cannot provide you with any more pictures than what may be posted.
I will help in the cost and the logistics of moving the boat to Santa Barbara Harbor.