25 Luhrs Cabin Cruiser '69 (Colchester VT)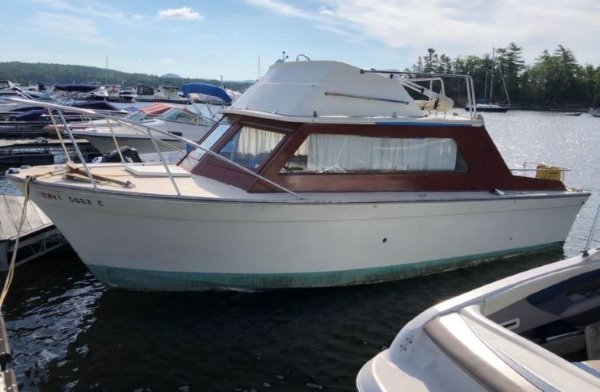 1969 Luhrs 25' cabin cruiser
I bought this 1969 Luhrs 25' cabin cruiser several years ago when I needed a place to live while finishing my home on shore and it worked beautifully for that.
The toilet works fine and the heavy aluminum holding tanks doesn't leak and doesn't stink.
There is a sink and refrigerator in the galley but no stove- I got along fine with microwave and induction cooktop while at the slip.
The 318 Chrysler V8 motor starts and runs cheerfully enough but as far as I know has never been rebuilt.
There are two ~50 gallon fuel tanks; one needs a new fill tube.
I replaced the rotten floor and engine hatch cover with marine plywood and replaced the few rotten stringers and deck support beams with pressure treated and as far as I know there is nothing rotten still needing to be replaced.
The hulls of the Luhrs boats when they transitioned from wood to fiberglass are impressively thick and rugged, and this hull is no exception.
I have stripped, sanded, filled and varnished ~60% of the exterior mahogany brightwork, some has been stripped but not yet refinished.
The only really odd thing about this boat is that it can only be steered from the flybridge as I have never figured out how to have both steering wheels connected at the same time. Someone cleverer than I will have to work that out.
This rugged but charming old girl gets lots of compliments at the dock, and with a little work work and regular maintenance there is no reason it shouldn't last another 50 years.