1978 Bayliner and Trailer (West Seattle WA)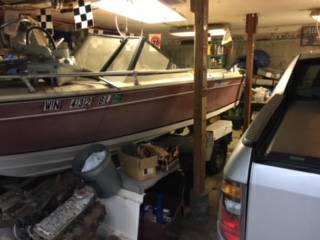 1978 17 foot Bayliner
I have given up on this project and need the garage space!
When complete will make an awesome puget sound crabbing and fishing boat.
I rescued this from a backyard, where it had lots of rot,
bad upholstery, and an engine that may or may not run.
I tore the boat down to the bare hull, removed all rot, and replaced the stringers,
the floorboards, and rebuilt the transom and motor mounts.
I also installed a brand new fuel tank.
I also bought a great running engine and a bunch of spare parts for the installation.
I figure that I am into the boat for about $1000, not including my labor.
I stopped the project when another boat project began taking all of my time,
and it has sat in my temperature controlled garage since the day I brought it home.
Looking to give this to someone who is looking for a cool project and to own a solid running,
but not quite pretty, boat for just time and some supplies to get it running.
I have a bunch of additional photos if you would like to see them prior to an in person visit.
muscle 2 engines into the back of your truck or perhaps the boat.
Take it all, that is my only request.
Thanks for looking!