1977 Balboa 26 (Eliot NH)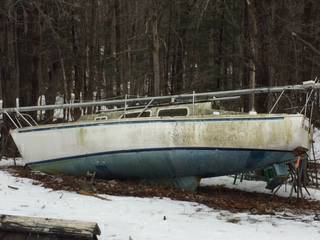 1977 Balboa 26
foot sailboat with retractable keel, and self righting mast.
The boat is trailerable, so if you have a trailer the right size, it can be towed to lakes, etc.
All sails have been stored indoors, and the boat had been covered(until 2 years ago)
I think the transition from the stands directly to a trailer would be too difficult without some kind of lift.
i had someone come to "take the boat" last summer, and in the process of not listening to my advice
of getting the boat hauled by a boat company,
and claiming he could get the boat onto a trailer by himself, he dropped the boat off the stands,
missed his trailer, and the boat now sits on the ground, with a broken rudder, off the stands,
and the guy who dropped it left it as is, and took off back to Georgia.