1975 Carver 33' Twin Engine Cabin Cruiser (Magnolia WA)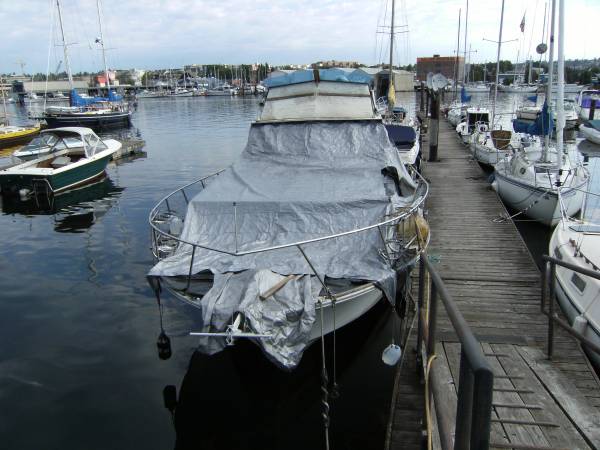 Free 1975 Carver powerboat
This boat was put in our auction and didn't sell.
We have the paperwork for you to transfer title.
Has all the Carver decals, even the mermaid swim step mounts...
You could make money scrapping it or make it sea worthy or use it for the kids in the back yard.
We don't have the the time.
We are not zoned as a boat yard and therefore dis-assembly on site is not an option.
1975 Carver 33' Fiberglass Hull Twin Engine Cabin Cruiser.
Flying Bridge,
Sleeps 6,
Full Galley,
Head + shower.
Engines: Port engine 95 hours after rebuild, ran last year but hasn't been used since.
Stbd Engine Dis-assembled. Engines are Ford 302 -
Both Marine Transmissions have been rebuilt.
There is probably in excess of $2000 of engines, transmissions and hardware on-board if somebody wants to scrap it out or they can revive it back into use.
The hull appears to be sound.