Gone - 1973 Colmansalin 42ft houseboat (Flowery Branch GA)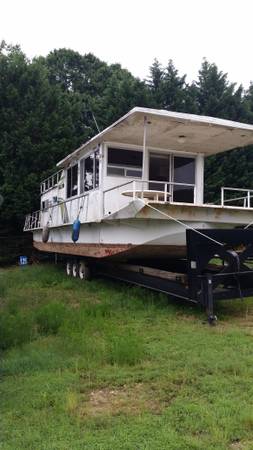 boat is free
Come look at the boat and if you want to take it I will give you the bill of sale and it's yours.
Come to the marina gate and talk to the guard or ask for mark or Michael we will show you the boat.
I posted this ad yesterday and got 100 phone calls so I'm re posting to day with further instructions if this posting is still on Craigslist I still have the boat I will remove the posting when the boat is gone.
BOAT NEEDS TO BE GONE ASAP!!!!
1973 colmansalin 42ft houseboat has stackable washer and dryer, refrigerator, and dishwasher.
Don't know much about this boat it's a house boat, it floats I was told the motor and drive are good. definitely needs a new roof come pick it up by boat and I will launch it for you and you tow it away or bring a 50ft trailer and you can pull it out of the water on your own trailer and tow it away.