Gone - 1966 Columbia 24ft sailboat (Ellicott city, MD)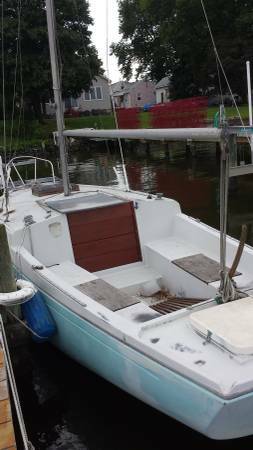 1966 Columbia Challenger 24ft sailboat
Vessel is in need of repair before it can be sailed.
Currently in the water, no leaks, does not take on water.
The port side chainstay was leaking previously and water rotted the bulkhead.
Will need the bulkhead replaced before it can be sailed.

Now the good:
Running 6hp outboard with 2 (full) 6 gallon fuel tanks.
All fit in the outboard motor-well, completely out of sight.
hull and deck are solid, no soft spots.
Running lights are good, and I have 4 sails for her, 2 mains, a jib, and a jenoa.
Updated winches.
I have to let go of her, moving to a land locked location.
Currently located in Pasadena.