Gone - 1959 Frontier on trailer (Chicago IL)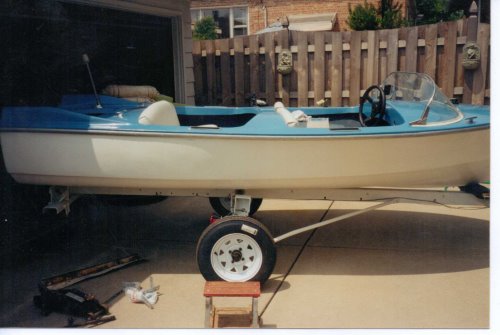 1959 Frontier 'the 400'
I started a restoration but never got around to finishing.
Now this runabout needs someone who can take some time and finish this project.
It will take some money, but the finished result will be worth it.
It is a Frontier 'the 400'.
This is a true fiber-CLASSIC.
Built in 1959 with those automobile style fins.
This boat will need a new transom, floor, and seats.
The windshield is now cracked too.
I have the original steering wheel and a new one too.
I have the steering cables. I have some other items too, like lights and trim.
This boat is FREE, first come, first served, BUT you will have to transfer title before moving her.
She is on a very nice trailer.
I have the Illinois titles to BOTH, the boat and trailer.
I wish I could finish this myself, but I will be moving soon and can not take her with me.
No motor came with her, but a 15 - 35 horse is recommended.
I work but, I'll get back to you after I get home.
There are clubs devoted to just these types of early, original, fiberglass boats.
PLEASE BE LOCAL for pick-up, the trailer tires are not so great.
GONE