17' Sailstar Pioneer Sailboat Free (Marine City MI)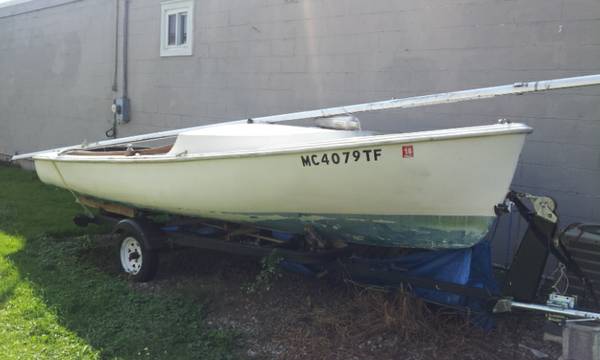 FREE - 17' Pioneer fractional sloop made by Sailstar
TRailer not included.
This is the heavy duty version of the Explorer 17' basically copies of the very popular O'day Daysailor.
Has a 6.3' beam, and retractable centerboard which draws approx. 7" up, and 3' down - great for shallow waters. Comes complete with mast, boom, rudder, and main sail. Displacement is 650lbs, and the sail area is 151' (with jib - not included), giving this boat a SA/Disp. of almost 31.
This means that it is a relatively fast planing hull.
The only real issue with this boat is that the floor is soft toward the aft. You'll either want to cut it out and replace it, or put down some plywood to get out there today and sail.
The fiberglass is in good condition, and the boat is otherwise ready to sail. The wood trim is in very good condition as is the wood on the rudder and tiller. There's a motor mount/well on the transom. It will accommodate an electric or gas powered motor. Id estimate that as little as a 55 lb thrust electric or definitely a 2hp engine will get you right out onto the lake.
Use it as a sailboat or fishing boat etc. It's roomy, stable, and a great beginner sail boat.
NO TRAILER IS INCLUDED.