RayMarine Brings Augmented Reality to Sailing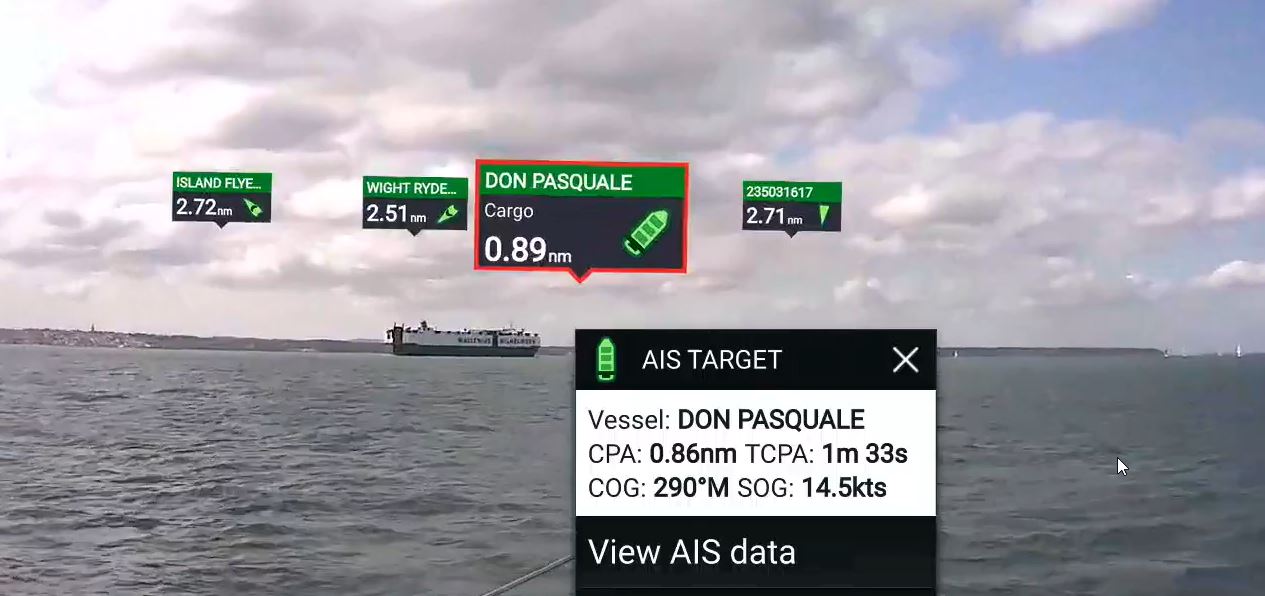 Raymarine is bringing new technology to the sailing arena with video overlay augmented reality.
Featuring steadyview technology to remove rocking action from the display the system integrates identification of critical navigation objects overlaid on HD video and surrounding AIS-equipped vessel traffic and charted navigation aids which are clearly identified with rich graphics on a live, dynamic video image.
The AR200 Video Stabilization Module ensures accurate display of AR data while underway and is an Augmented Reality Sensor consisting of a Global Navigation Satellite Systems (GNSS) Receiver and an Attitude and Heading Reference System (AHRS) sensor. Additionally providing position, heading, pitch and roll data to compatible Axiom MFDs Including 9-axis AHRS (attitude and heading reference system) sensor, 28-channel GPS receiver, 10Hz position updates, Satellite differential GPS-compatible, space-Based Augmentation System (SBAS) enabled with WASS, EGNOS, MSAS and GAGAN.
It is a NMEA 2000 compliant and sports an IPX6 / IPX7 waterproof rating.
Identify and respond to movement of nearby marine traffic
AIS Targets are shown with Color-coded labels providing instant identification, status, and risk-assessment live AIS target information. ClearCruise AR provides positive identification of AIS equipped vessels on the horizon.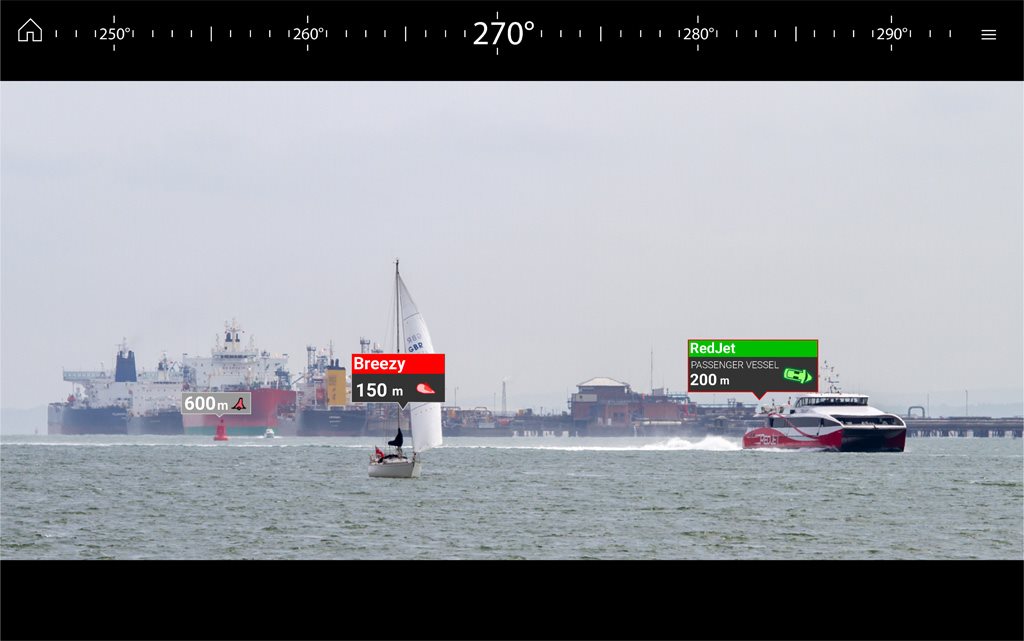 The Heads up display allows you to Stay out of harm's way.
Major chart objects are identified for instant, heads-up recognition.
Improves safety onboard and on the water as it allows crew to visualize nearby marks and waypoints for easy navigation and makes it easy to pick out the buoys marking the edges of the safe channel on a hazy days and reduced visibility.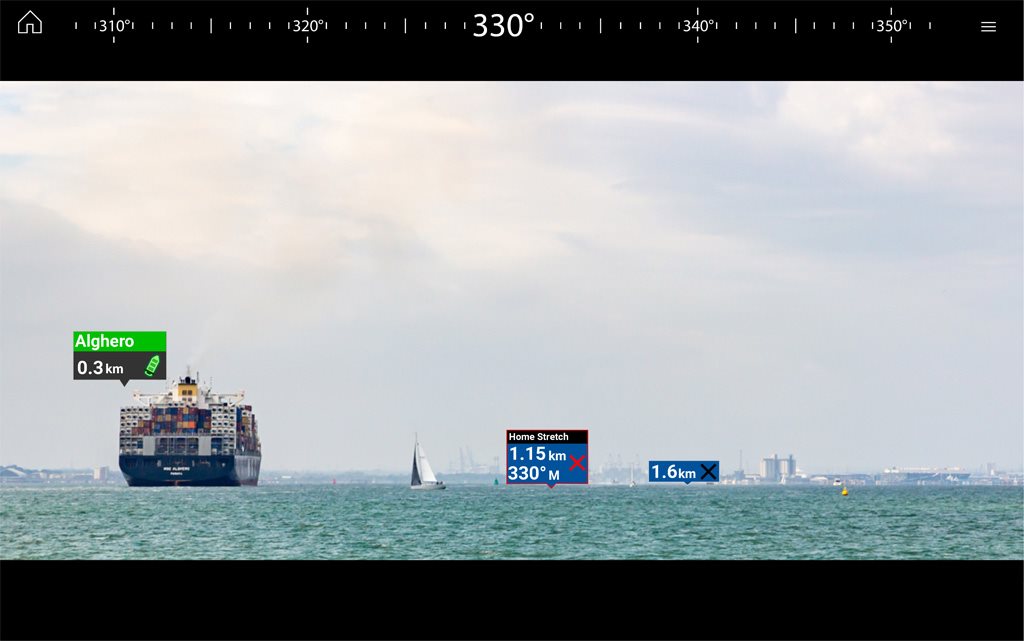 The IP connected CAM210 Bullet CCTV Day and Night Video Camera pairs with AR200 IP Camera Stabilisation Module, for Augmented Reality overlay utilizing AIS data.
AIS is a common component on all newly manufactured VHF communication systems.
The automatic identification system (AIS) is an automatic tracking system that uses transponders on ships and is used by vessel traffic services (VTS). AIS information supplements marine radar, which continues to be the primary method of collision avoidance for water transport.
Information provided by AIS equipment, such as unique identification, position, course, and speed, can be displayed on a screen or an electronic chart display and information system (ECDIS). AIS is intended to assist a vessel's watchstanding officers and allow maritime authorities to track and monitor vessel movements. AIS integrates a standardized VHF transceiver with a positioning system such as a Global Positioning System receiver, with other electronic navigation sensors, such as a gyrocompass or rate of turn indicator. Vessels fitted with AIS transceivers can be tracked by AIS base stations located along coast lines or, when out of range of terrestrial networks, through a growing number of satellites that are fitted with special AIS receivers which are capable of managing a large number of signatures.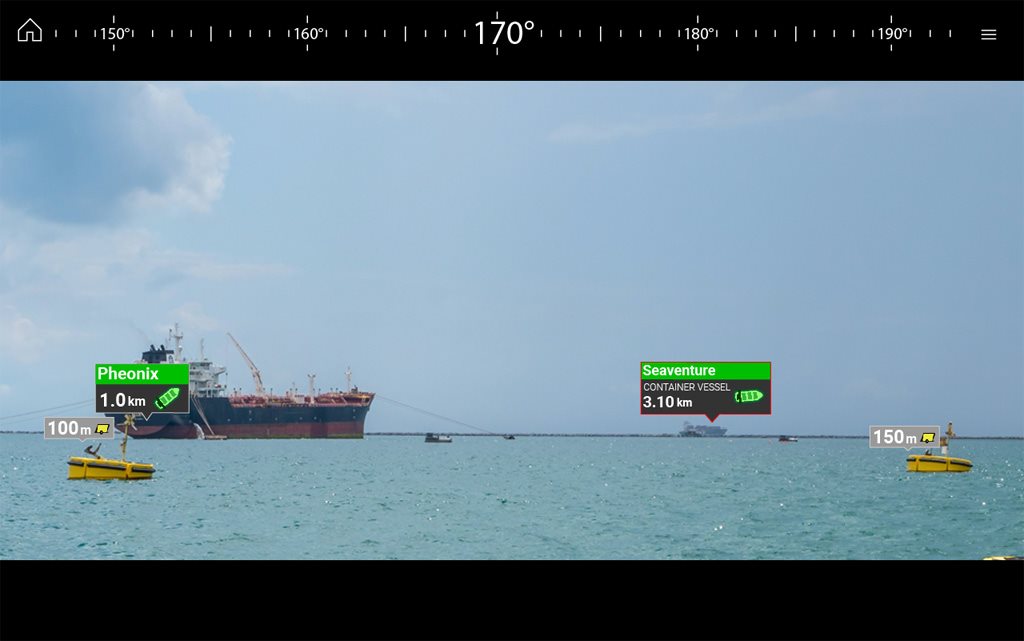 For some sailors without current AIS data providing hardware you may qualify for a free upgrade though MarineTraffic worldwide network MarineTraffic.com which works to further improve its coverage by expanding its network of AIS-Receiving Stations. Sailors can become a contributor to this project by installing your own station and sharing your data with them. In many cases, they provide high-quality AIS equipment for free!
(in exchange for access to the received tracking data)