1965 Cascade 29 (New Gretna NJ)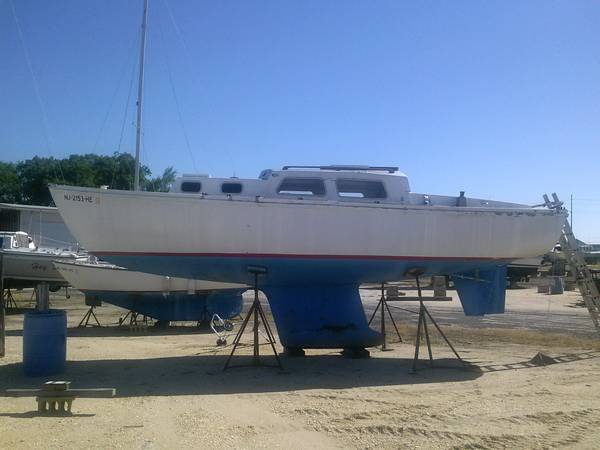 1965 Cascade 29
Built by Yacht Constructors Inc. in Portland, Oregon. Hull number 135.
This boat is a great project for a sailor/woodworker.
I have put years into this boat. It is solid.
It is of no use to me because I now live on the west coast. I would like it to go to someone with plans of putting it back on the water.
It would not take much and is very seaworthy with some TLC.
It currently needs some minor woodworking and fiberglass repairs to be watertight.
The hull has a hole drilled in it to drain. And one window is open to allow air to circulate.
This boat was last on the water in summer 2014. It needs a motor.
It has a 1938 gray marine 4 gasoline flathead motor in it now with velvet drive transmission.
The shaft and packing is new(2014). The gas in the tank is from 2014 as well. I am giving you everything I have with this boat.
It comes with a 28 ft aluminum mast. 2 jibs and 2 mainsails.
All cushions for all the benches and beds.
It has a spruce boom that is solid and beautiful(shown in pictures).
The boat does have a bathroom however it does not have a toilet. I had a toilet in there that had a removable tank.
All the pumps were new in 2014 and has a 30 gallon stainless water tank in the bow.
The hull is solid fiberglass.
This boat does require 5 feet of water to float. This means you need deep water to keep it in.
New Jersey does not have the best conditions for this unless you try cape may/Maryland

If genuinely interested. I can set up a time for you to see the boat.
It is drydocked at the marina. If you are still interested at this point, I will transfer the title into your name and gift it ,or sell it for a dollar , however you please.
There will be towing cost associated at this point unless you have a sailboat trailer capable of towing a 30 ft sailboat with a 5' draft.
Please do your research. Look up boat haulers. See what it will cost to take it to your house.